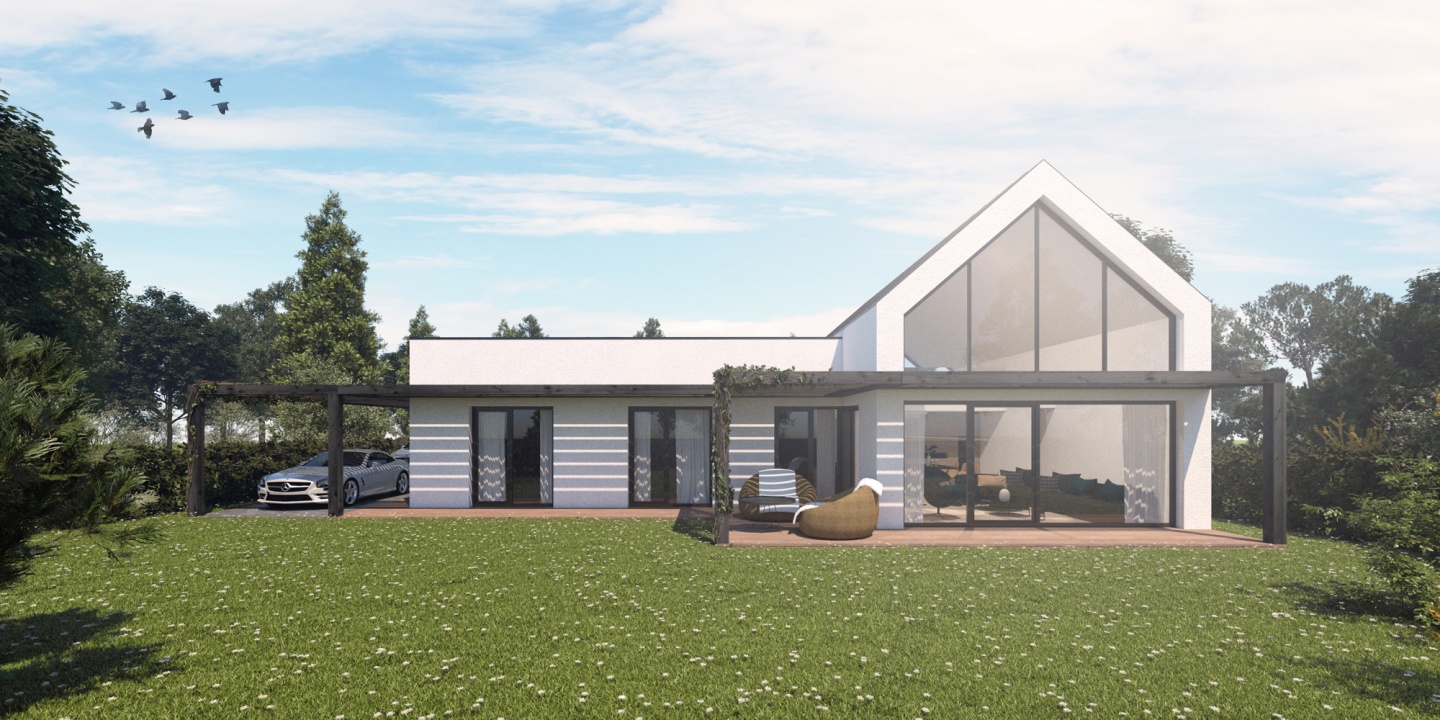 Place:

Hamuliakovo, Slovakia

Size of plot:

683 m2

Built-up area:

204 m2

Project:

2017

Type:

New construction

Implementation:

2018-2019
This family house reflects all the preferences of the architect as a creator, his personal involvement as well as the needs and dreams of all his family members. The process here was a bit more complex in that this house is my house.
Even the selection of the proper land was itself rather difficult. The location, surroundings, plot, its characteristics and possibilities had to fulfil demanding requirements and ideas, not to speak of the interior arrangement of the spaces and the architectural materials. Each member of the family had his or her own vision, with priority to mother and father, where the inviolable alternated with compromise solutions.
The result is a single-storey house in the shape of the letter "Tˮ, which at each moment responds to the plot, its parameters, orientation and the functioning of the family, where the daily residential part and the intimate night-time part are segregated on a material-spatial principle, which is done so only horizontally in the scope of one floor. The night-time and daily parts are thus fully autonomous, without the need for crossing one through the other. The children's bedrooms are in the first phase joined into one, with the considered possibility of their later division in the form of a furniture element. The entire house and its layout respond to the conditions of the surroundings and in the scope of compass points is enclosed from the northern street and opens to the southern garden. The living part is open through a height of two storeys, which enables not only the house, but its members, to breathe and helps bring the exterior of the garden to the interior. The kitchen, pushed into a kind of cove, has a predetermined view not only of the entire living room area but also the garden, where the children would play. The two-storey height of the living part created a space for an office in the internal gallery with a view not only to the street and the open timber framework, but also through the glassed-in gable directly into the garden. The light, the feeling of the exterior in the interior, and the simple orientation within the space were the basic elements of the work. The archetypal shape of the roof with modern details brought a little bit of tradition, denied the modern cube and put the play into the modelling of the internal space. All the material of the house and its composition were programmed and conditioned by the will of the architect to have certain elements, visual moments and spaces within the interior. The house is materially simple and clear, without the need to deal with a material accent. The minimal architectural element is the pergola, the frame of which encircles the house over nearly the entire perimeter and gives it a certain dose of the desired horizontality.